Another Successful Scramble
Twenty-one teams joined in the eighth annual Scramble-4-Life golf outing, benefiting Right to Life of Shelby County. We are grateful to the many people who work to make this event happen. Be sure to mark your calendars for next year's event: May 11, 2019.
Please support our generous sponsors:
Eagle Sponsors

Flinn Veterinary Clinic, Sidney * Upper Cervical Health Centers, Botkins * The Hoge Family: In Memory of Megan
Birdie Sponsors
Bayliff & Eley Funeral Home * McCrate, DeLaet & Co * Meyer's Tavern * Sidney Electric * Roger & Susan Doseck * Brian & Kathy Monnin
Par Sponsors

Area Energy & Electric * Bergman Drywall * Julia Monnin: Author & Speaker * Lacal Equipment * Osgood State Bank * Wells Brothers, Inc. * Gary & Anita Bornhorst * The Fullenkamps: In Memory of Dale * Steve & Rita Monnin
Hole Sponsors
Dietz Painting * Custom Foam Products * From the Ground Up Ag Service * IC Church Ladies Sodality * Prueter's Body Shop * St. Marys Chiropractic * Silver Cross * Tony & Jill Arnold * The Ray Limbert Family: In Memory of Elizabeth & Jacob * In Memory of Cara Meyer
Local Junior Wins 10th Annual Pro-Life Speech Contest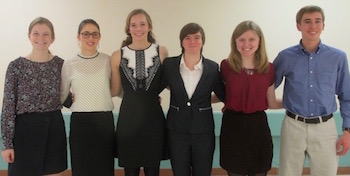 Malorie Hussey took top honors in the 10th annual Shelby County Pro-Life Oratory Contest on Presidents' Day. Hussey spoke on the many adverse effects that child-loss through abortion can have on women, but also shared inspiring stories of recovery and healing. Hussey is in her third year at Lehman Catholic High School and, according to her speech, is considering a career in gynecology.
Hussey was one of six contestants. Runner up in the contest was Abby Jones, a senior at Lehman Catholic High School. In third place was Joe Ballas, a junior at Fort Loramie High School. The five to seven-minute speeches included the topics of abortion, doctor-prescribed suicide and stem cell research.
Contest prizes ranged from $300 to $100 and, as the winner, Hussey will go on to compete in the state contest in April, with a chance to continue to the national level. Judges were Tara Adams, of Sidney; Sanna Aikin, a French teacher and translator; and Kurtis Black, an attorney practicing in Troy.
Anne Schmiesing, the coordinator of the contest, noted, "Ten years ago was our first contest in Shelby County, and our winner, Elizabeth Trisler, started us off with a win at the state level. The following year she won both the state and national contests. Malorie is also an excellent presenter and I expect her to represent Shelby County well at the next level."
Update: Malorie placed third at the Ohio Right to Life contest. Congratulations, Malorie!