UPDATE: Store to Reopen
Renovations are complete and our thrift shop is ready to reopen. We will resume our regular hours beginning Tuesday, July 29.
Thank you to all who contributed funds toward and assisted with the remodeling. It's a great improvement! Please stop by and take a look.
Promoting Life at Local Parades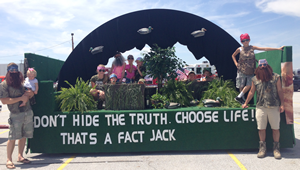 The Right to Life parade float has been on its annual tour of area festivals. So far it has appeared at Jackson Center Community Days, Botkins Carousel, Versailles Poultry Days, and Anna
Homecoming. Later in the summer it will roll in the Sidney ApplefestParade.
As a tribute to the hit cable show and to the Robertson family who are well known for their Christian views — including on abortion — the float's theme this year is Duck Dynasty. It displays
the message, "Don't Hide the Truth. Choose Life."
A big thank you to Randi and Chris McVety, who volunteered to organize the float project for 2014. Thanks, too, to all of those who helped decorate, transport, and staff the float during the parades.
Golf Outing a Success
The 4th Annual Scramble-4-Life golf outing, held May 10 at Shelby Oaks Golf Course, was a great success. Many thanks to all of those who organized the event, and to the 22 teams that participated.
Special thanks to our generous sponsors, and to all of our door prize donors.
Eagle Sponsors Flinn Veterinary Clinic, Sidney; Upper Cervical Health Centers, Botkins
Birdie Sponsors Freshway Foods; Lacal Equipment; McCrate, DeLaet & Co.; Sidney Electric


Par Sponsors Custom Foam Products; Brian & Kathy Monnin; Onsite Fitness; Osgood State Bank; R.G. Sellers Company; Wells Brothers Inc.
Hole Sponsors Bergman Drywall; Dietz Painting; Hoying & Hoying Builders; IC Church Ladies Sodality; Inn Between; Koenig Equipment; Meyer's Tavern; Palazzo; Prueter's Body Shop; Repacorp, Inc.; Silver Cross; Tony & Jill Arnold; Gary & Anita Bornhorst; Chris & Heather Monnin; Steve & Rita Monnin; Ben & Erica Paul; The Bruce Hoge Family - In Memory of Megan; The Ray Limbert Family - In Memory of Elizabeth & Jacob