Congratulations to Oratory Winners
Dylan Sherman, a senior at Lehman Catholic High School, topped the competition at the RTL Oratory Contest Monday, February 16. The contest was held at St. John's Lutheran Church in Sidney.
Second place went to Nathan Platfoot, a junior at Botkins High School. Placing third was a Russia High School junior, Erin Gaerke.
Congratulations to our winners, and to all of the competitors, who all delivered impressive pro-life speeches.
Good luck to Dylan, who continues on to represent Shelby County at the Ohio Right to Life Oratory Contest on May 2.
Shelby County Shows Pro-Life Colors at Vigil, March for Life
On Wednesday, January 21, Kevin Schmiesing, Program Director for Right to Life of Shelby County welcomed over 200 pro-lifers to the Candlelight Vigil commemorating the 42nd anniversary of Roe v. Wade, the Supreme Court decision that legalized abortion on demand. He shared stories from women who regretted the bitter experience of abortion and had found healing in the pro-life movement through a Rachel's Vineyard retreat.
Nino Vitale, the newly elected representative from the 85th Ohio House District reminded those present that "Each person is unique and has been given life with a purpose by the Author of Life Himself. Twenty years ago, my sister was told that her unborn child had a spot on her brain and that the family should consider 'alternatives'. Because of that family's courage, my niece was given life and graduated with honors from high school."
He shared that the single most important piece of legislation is the Heartbeat Bill. "Legally, this bill is designed to pass a legislature and fail in the court system until it reaches the Supreme Court where it will challenge 'Roe v. Wade'." Although the bill did not pass the Ohio legislature last session, the hard work of grassroots activists resulted in 29 co-sponsors for the current session. A March vote is now scheduled.
Vitale said, "Doing what is good, true, and beautiful does not depend upon the actions of others. What is true is true even if only one person believes it. And what is wrong is wrong even if millions believe it. While we must push forward with legislation, we can save babies right here and right now by changing hearts and minds. By changing one mother's heart, we can save that baby." Mr. Vitale left those gathered with a question: "If we are a movement that cares about a child having a good life past birth and if we want a child to have that life with their own mother and father whenever possible, is it pro-life to take away that chance by redefining marriage?"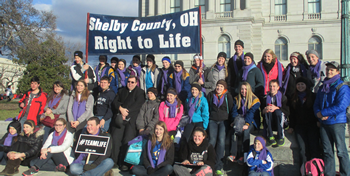 He reminded those born after 1973, that they survived the abortion holocaust and that they should thank their parents for saying "Yes" to life. He concluded, " God bless you and God bless our state and country."
Ann Cordonnier, thrift shop manager for Right to Life of Shelby County shared stories about how those who are caring for children find the thrift shop to be a place they can go to for help and resources. Those who have lost their lives by abortion or been wounded by their participation in abortion were commemorated during the silent candlelight procession around the courthouse.
Near the conclusion of the event, Schmiesing announced upcoming Right to Life events including the Pro-life Oratory Contest on February 16; the Russia Garage Sale on March 26-28; and the Golf Outing on May 9. The vigil concluded with a psalm and prayer offered by Larry Novak, intern at St. John's Lutheran Church
Following the vigil, a busload of Shelby Countians left for Washington, D. C. for the January 22 Catholic Rally and Youth Mass and then the March for Life. They joined hundreds of thousands of other pro-lifers who traveled from all over the country to pray and march down Constitution Avenue toward the Supreme Court building.