Trisler Takes 1st at Pro-Life Speech Contest
"Gas chambers." These riveting first words opened Christy Trisler's speech, which compared abortion in America to the Holocaust in Germany. The address skillfully wove together statistics and emotional appeal and Trisler delivered it flawlessly, earning herself first place in this year's Shelby County Right to Life oratory contest, held Monday, February 24, at St. John's Lutheran Church in Sidney.
Aaron Amsden, a senior at Christian Academy placed second, winning $150, and the third place prize of $100 went to Isaac Abbott, also a senior at Christian Academy. (Above, Trisler chats with Abbott, center, and Amsden.)
Also participating were Courtney Gies of Jackson Center High School, Nawal Hijazi of Sidney High School, and Christian Academy student Caleb Ordean.
Event chair Anne Schmiesing said that all of the speeches were excellent. "The judges always have a difficult task," she said, "and this year was no different."
"The students were well-prepared," she added, "and their poise in addressing the audience was so impressive."
Junior and senior high school students residing in or attending school in Shelby County were eligible for the contest. Each student was allotted five to seven minutes to compellingly present their concerns about one of four abuses of the right to life: killing of disabled infants, abortion, assisted-suicide or stem-cell research involving embryonic-stage humans. (See the full list of rules, guidelines, and tips.)
Judges for the contest were Tara Adams, Amy Gleason, and Kevin Schmiesing.
Trisler is registered as a senior at Sidney High School and attends Edison Community College through PSEOP. With her award, Trisler receives $300 and the right to compete in the Ohio Right to Life state oratory contest in April. The winner of the state competition moves on to participate in the National Right to Life Jane B. Thompson Oratory Contest, to be held in June in Louisville, Kentucky.
Candlelight Vigil Turns into Prayer Service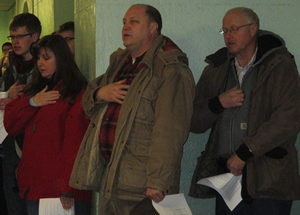 Due to single-digit temperatures, the annual candlelight vigil was held inside the courthouse this year, as a pro-life prayer service replaced the traditional candlelight procession around the court square.
Both Shelby County buses to the March for Life were also cancelled due to weather, leading to a smaller crowd than usual. Still, 75 hardy souls showed up for a moving and meaningful period of prayer for our nation, for our communities, and for all those touched by abortion. (At left, attendees begin the ceremony with the Pledge of Allegiance.)
We are grateful to all who participated in the vigil, including: Pastor Jon Schriber, who offered the opening prayer; Brian and Terry who provided music; and Fr. Frank Amberger, who offered the closing prayer.
Special thanks to event chairman Tim Bodenhorn, and to the Knights of Columbus for furnishing refreshments.