Attention, Juniors and Seniors! Oratory Contest
Contest Date: Monday, February 19, 6:30pm, at St. John's Lutheran Church in Sidney.
Registration deadline is Thursday, February 15. Contact Anne Schmiesing at 937-492-5584 or by e-mail to register or for more information.
All high school juniors and seniors who are residents of Shelby County or attend a Shelby County high school are eligible to participate in the Shelby County Right to Life Oratory Contest. Prizes for 1st through 3rd places are $300, $150, and $100 respectively. The winner will continue to the state contest, with the chance of winning a trip to the national competition.
See our Oratory Contest Information page for more details and guidance.

Right to Life Vigil Draws Crowd to Court Square
More than 75 people from across Shelby County gathered at the courthouse Monday evening to mark the anniversary of Roe v. Wade.
Father Peter Langenkamp, parochial vicar of Holy Angels Catholic Church, led the group in prayer, followed by the Pledge of Allegiance. Right to Life's program director, Kevin Schmiesing, presented a history of Roe v. Wade its companion decision, Doe v. Bolton, highlighting the conversions of Norma McCorvey (Jane Roe) and Sandra Cano (Jane Doe), who both later regretted their involvement in the abortion cases and became pro-life activists.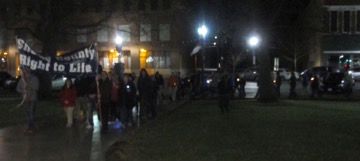 The group then processed around the court square holding candles, in silent prayer and remembrance for all victims of abortion. The program closed with an address by Right to Life volunteer Nan Martino, who explained how the group's thrift shop serves the needs of the community by providing both low-cost baby supplies and many forms of personal assistance. Martino encouraged others to get involved as well. "Outside of raising my own family," she said, "my work with Right to Life has been the most rewarding experience of my life."