Life: More Precious Than Gold
Right to Life was an active participant in local festivals again this summer. Our float featured a rainbow leading to treasure (a child) and displayed the slogan, "Each human life – more valuable than a pot o' gold."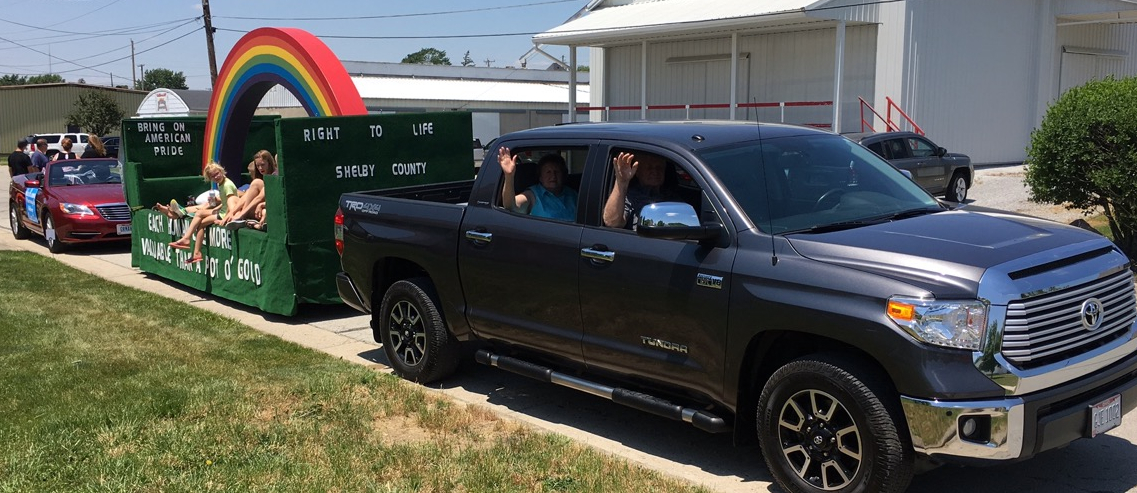 Thank you to our generous members who volunteered to pull the float in the parades in Jackson Center, Versailles, Botkins, and Anna.
Golf Outing Thrives in Beautiful Weather
On Saturday, May 13, Right to Life of Shelby County hosted its 7th Annual Scramble-4-Life golf outing at Shelby Oaks Golf Club. Twenty-three teams participated in the event that was sponsored by 28 area businesses and families. In addition to participants receiving a commemorative tumbler, door prizes and $700 in prize money were awarded.
The Scramble-4-Life raised over $6,000 for RTL this year, bringing the cumulative total raised from this event (since 2011) to $36,200!

Many thanks to Julia Monnin and the whole Tim and Darla Dietz family for their work in organizing the outing; and to all of our generous sponsors and prize donors.
Eagle Sponsors: Flinn Veterinary Clinic, Sidney • The Hoge Family: In Memory of Megan • Upper Cervical Health Centers, Botkins
Birdie Sponsors: McCrate, DeLaet & Co. • Meyer's Tavern • Sidney Electric • Roger & Susan Doseck • Brian & Kathy Monnin
Par Sponsors: Area Energy & Electric • Lacal Equipment • Osgood State Bank • Drs. Michael & Teresa Trygstad • Wells Brothers • Gary & Anita Bornhorst • The Fullenkamps: In Memory of Dale
Hole Sponsors: Bayliff & Eley Funeral Home • Bergman Drywall • Dietz Painting • Custom Foam Products • IC Church Ladies Sodality • Palazzo • Prueter's Body Shop • Silver Cross • Tin Cup Quality Water • Tony & Jill Arnold • Steve & Rita Monnin • The Ray Limbert Family: In Memory of Elizabeth & Jacob • In Memory of Cara Meyer