Speaking for Life: Bezy Wins 2019 Contest
Right to Life's 12thannual Pro-Life Oratory Contest is in the books and senior Elias Bezy of Lehman Catholic High School has taken first honors. The contest is the regional stage in a state and national competition among other Right to Life chapters. Bezy will next compete in April at the Ohio Right to Life contest, where he will again share his perspective of abortion as a product of moral relativism.
Other prize-winners were runner-up Mitchell Berning of Fort Loramie High School and Alexandria Baughman of Christian Academy in 3rdplace. Berning noted that recent passage of radically pro-abortion legislation in New York and other states has lit a fire under him to speak up for the vulnerable unborn. Baughman, addressing the other end of the spectrum, outlined violations of human life in earlier stages of development, namely through embryonic experimentation. She clearly distinguished safe, effective, and ethical adult (or somatic) stem cell research from embryonic stem cell research, which extracts essential cells from living embryos and results in the death of the embryonic child in his or her first few weeks of life.
The competition was held February 18 at St. John's Lutheran Church in Sidney. It is an important part of RTL's educational outreach: The benefit of the contest in building a deeper understanding of life issues is clearly seen in these students as they learn to defend the most vulnerable human persons who are not legally protected.
The three prize winners received $300, $150, and $100, respectively, and were judged by Tara Adams, Kurtis Black and Anne Schmiesing.
Local Junior Wins 10th Annual Pro-Life Speech Contest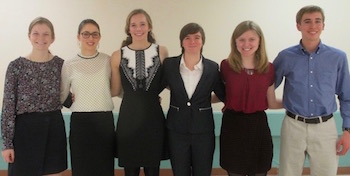 Malorie Hussey took top honors in the 10th annual Shelby County Pro-Life Oratory Contest on Presidents' Day. Hussey spoke on the many adverse effects that child-loss through abortion can have on women, but also shared inspiring stories of recovery and healing. Hussey is in her third year at Lehman Catholic High School and, according to her speech, is considering a career in gynecology.
Hussey was one of six contestants. Runner up in the contest was Abby Jones, a senior at Lehman Catholic High School. In third place was Joe Ballas, a junior at Fort Loramie High School. The five to seven-minute speeches included the topics of abortion, doctor-prescribed suicide and stem cell research.
Contest prizes ranged from $300 to $100 and, as the winner, Hussey will go on to compete in the state contest in April, with a chance to continue to the national level. Judges were Tara Adams, of Sidney; Sanna Aikin, a French teacher and translator; and Kurtis Black, an attorney practicing in Troy.
Anne Schmiesing, the coordinator of the contest, noted, "Ten years ago was our first contest in Shelby County, and our winner, Elizabeth Trisler, started us off with a win at the state level. The following year she won both the state and national contests. Malorie is also an excellent presenter and I expect her to represent Shelby County well at the next level."
Update: Malorie placed third at the Ohio Right to Life contest. Congratulations, Malorie!
Right to Life of Shelby County
102 E. Poplar St.
PO Box 72
Sidney, OH 45365
937-498-1812
Web Hosting powered by Network Solutions®